I'm a friendly human.
---
Oh hey! I started full-time at PetFriendly! 🎉
Two and a half years ago, I went freelance. Honestly, it was going great. I wasn't planning on taking a job, but sometimes excellent humans get in the way …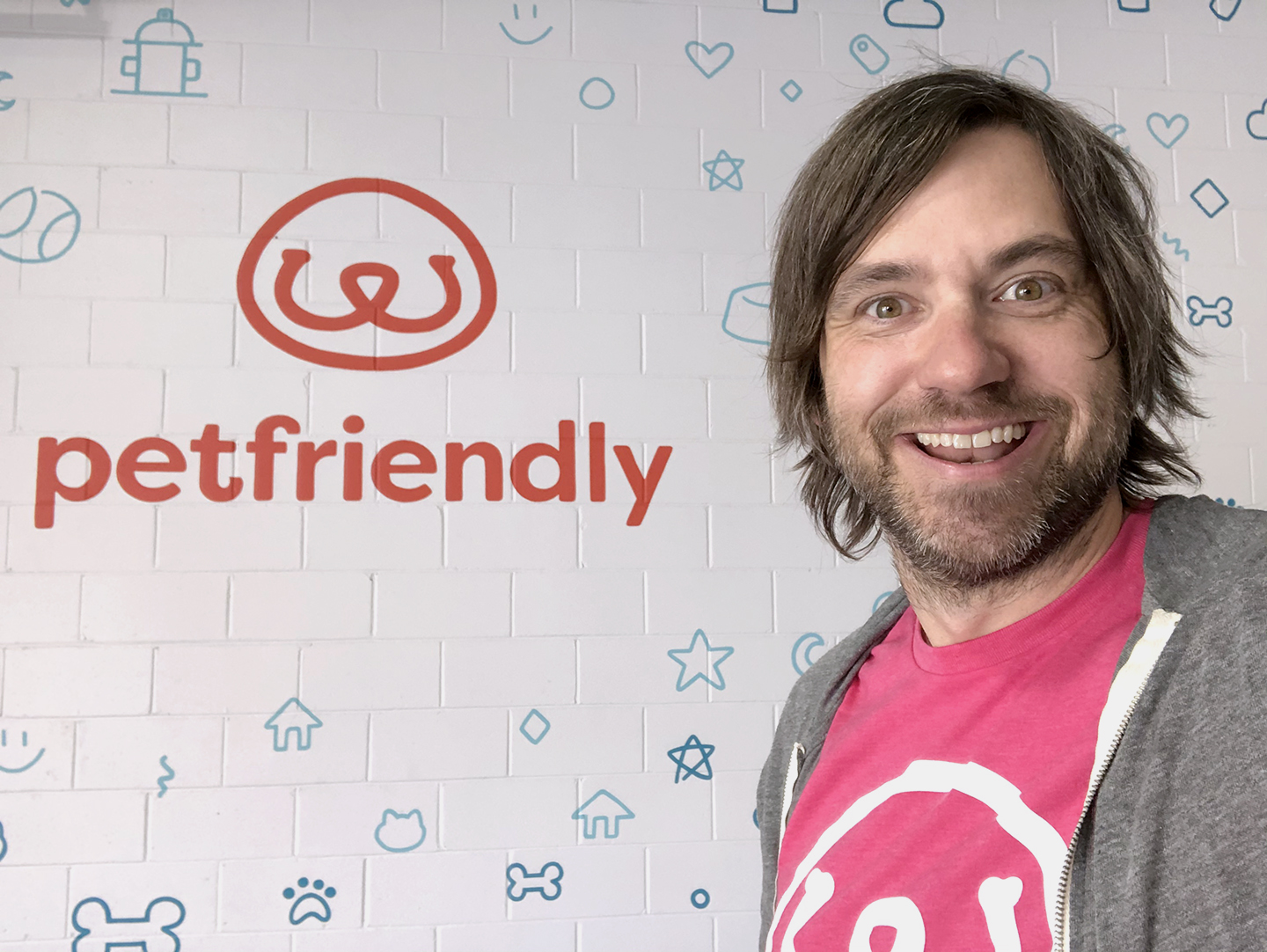 ---
Human Person
In early 2020, I had hit a lull. Burnout maybe. I was a year into freelancing and it was going well. I had clients I liked. The work was challenging and creative. I was more than paying the bills.
However, I felt unmotivated and unfocused. I just couldn't shake it.
I came to realize I missed being part of a team. I missed sitting and learning with people. I missed building something bigger.
And then … a pandemic.
---
2020 Hindsight
At the beginning of the pandemic, my wife Holly and I decided to pull Etta (now two) from daycare. While Annora (our teenager) was learning from home, we were trying to work "full-time" (read: "part-time") while taking turns caring for Etta … for a few weeks. Editor's note: It was more than a few weeks.
On 7/7/2020, Lucille (Lulu) was born. After taking parental downtime, we both went back-to-work "full-time", only this time with TWO littles. After 14 months of this dance, we are just now phasing these two little rascals back into daycare. Phew! Thanks, science!
Freelancing gave me incredible flexibility during this time. And I am so grateful for having amazing clients that accommodated my unconventional workday. Having limited hours each day forced me to be more focused and disciplined. It gave me a new perspective and snapped me right out of my slump.
Despite taking six weeks of paternity leave and working "full-time", financially 2020 was my best year ever.
---
Friendliest Client
I knew Aaron Shaddy from our overlapping community Venn diagrams of tech, entrepreneurship , music and pets. I admired his business successes, taste in music, and absolutely stellar reputation with everyone who knows him.
Several years ago, over lunchtime sushi, Aaron told me about his big idea: "Dollar Shave Club but for flea meds". Aaron's enthusiasm alone made me want to be a part of it.
Aaron dreamed of a company to keep pets healthy and make their humans happy. He wanted to develop technology to make it easy and fun to subscribe. He wanted to create a brand that was fun and whimsical. And he wanted to call it "PetFriendly".
Fast forward a year or two, PetFriendly started taking shape. Aaron hired my long-time friend and collaborator Alex P. Gates. The most fun, interesting and rewarding projects I've ever worked on were with Alex at What Cheer and Pack.
I had a full-time position, but was exploring the idea of freelancing full-time. PetFriendly became client #01 and allowed me to take the leap. I was thrilled to be working with these most excellent humans.
Since then, the team has grown a lot. Like Aaron and Alex, all of these folks are generous, kind and enthusiastic people. I love this team.
---
Human-to-Human
PetFriendly is a direct-to-consumer company. That means it's end-to-end … we create the product, market it, sell it, package it, ship it, support the humans (and their pets!), and develop the technology to make all of this smooth.
For a generalist designer, this is a dream come true. I love the idea of designing every interaction someone has with the brand.
And as it turns out, creating a seamless brand experience takes a lot of work. With the enormous ambitions of the company, it became clear that overseeing the PetFriendly brand experience was a challenge that demanded a full-time role.
---
Three L's
As a consultant, each potential project promises unique value. It's an art knowing which opportunities to take on and which ones to pass on.
Over the years, I came up with criteria of what's most important to me for evaluating potential projects. The three aspects I weigh are:
Love - Does it sound fun, interesting and fulfilling?
Lucrative - Is the financial compensation worth it?
Learn - Can I be challenged and grow from this experience?
Having confidence in my decision prevents me from constantly second guessing opportunity cost.
Especially in my early days, it was difficult to not compromise on at least one of the three. And that's okay, as long as it makes up for it in the other aspects.
Of course, the very best projects are strong in all three. That ensures high quality work and fends off burnout.
For me, PetFriendly scores high in all three aspects. This team with this opportunity made it an easy decision.
Let's go!
Weeeeeeeeeeeeeeeeeeeee!
John Henry Müller
P.S. If you want to help me keep pets healthy and their humans happy, come work with me. We're hiring!
P.P.S. If you have pets and want to give PetFriendly a try, use this code for 21% off your first box: FRIENDLYJHM
---
June 8, 2021